PayPal
Understanding Online Payments

Watch this short video and learn the basics of how online payment processing works. You'll also find out what to look for when selecting the best payment processing solution for your business.
PayPal Payment Solutions

PayPal is the fast, easy, secure way to accept credit cards PayPal, and PayPal Credit online. Whether your customers shop on PCs or mobile devices, PayPal optimizes the experience to help you capture more sales. Plus, when you add PayPal as a payment option, you add trust and credibility to your site and can tap into millions of active buyers who look for the PayPal way to pay.
Accept Credit Cards Online
All-in-One Payment Solutions

Everything you need.
Choose from a variety of bundled payment solutions to accept credit cards and other methods of payment on your website.
PayPal Payments Standard
Accept credit card, PayPal, and PayPal Credit payments securely. Your buyers are sent to PayPal-hosted pages to pay.

PayPal Payments Advanced
Accept credit card, PayPal, and PayPal Credit payments with a PCI-compliant checkout that keeps customers on your site.

Gateway Solutions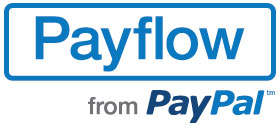 Join forces with your bank.
Use a merchant account from your financial institution to accept online payments.
Payflow Link